Guaranteed To Outlast And
And Outperform Other Materials
We specialize in pool resurfacing for plaster & painted pools; eliminate pool surface problems.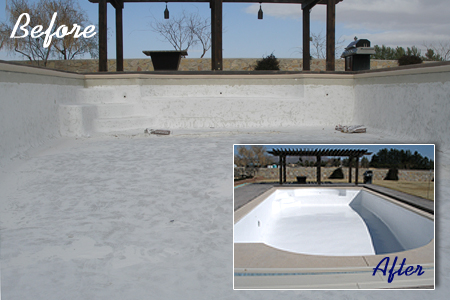 The time has arrived to resurface your pool. Today, the pool owner has more choices. Historically, plaster was the standard method, but due to long-term performance advantages, pool owners are increasingly utilizing fiberglass.
Visit the GALLERY for more Before and After photos.
Unsinkable Reasons Fiberglass is The Best Investment
Appearance
A beautiful, sparkling look. The fiberglass surface permanently remedies a dull, lackluster appearance, and instantly improves the pool's appeal.
Durability
A long-lasting solution to surface problems. Fiberglass eliminates acid washing, painting, and replastering. Fiberglass outperforms, and is not subject to degradation like conventional materials, including vinyl liners. Furthermore, fiberglass outperforms enhanced/modified additive plaster mixes, and aggregate plaster.
Versatility
Fiberglass can be applied to steel, aluminum, painted surfaces, and concrete. Also, vessels are not suitable for traditional materials.
Adhesion
Positive adhesion to most substrates. Will not disbond like coatings. "Pop-offs" associated with replastering are avoided.
Fast Application
Fast spray-application by experienced applicators. Pools experience very little down-time, allowing rapid return-to-service.
Cost Effective
Low life cycle cost. Does not require periodic maintenance.
---